15/03/2017
(PLO) - With traditional method combining with advanced technology, VBread has brought the brand "VBread – five star clean bread" to the market with top criterion
(PLO) - With traditional method combining with advanced technology, VBread has brought the brand "VBread – five star clean bread" to the market with top criterion that are delicious, safe and nutritious in order to bring a convenient but delicious dish to domestic and international customers.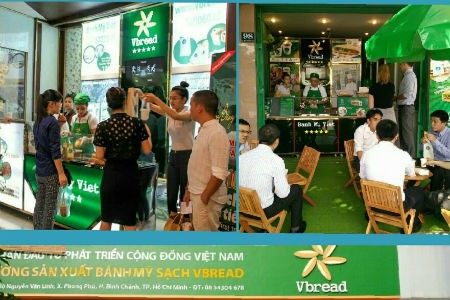 Healthy bread for healthy people, healthy thinking, healthy action
Understand consumer needs and wants, VBread Bread chain has introduced breads meeting five star standard to the market, changing a habit of "eating whatever you like" of people, changing the idea of people on healthy bread brands.
With a five-star certification, VBread has affirmed to many diners that this is not just an "unreality", we can clearly see that right from the production process, product quality to styles of service. Not only have a good recipe to make decent breads, but VBread is also extremely strict on seeking for chefs and prepare ingredients.
"It broke my heart to see motorbike taxi, employees, poor workers finishing their bread as fast as they can, so they could get back to work, it seems like they are eating just to feel full not to enjoy the deliciousness, they don't bother thinking whether it is healthy or not. So, I decided to create Vbread with a variety of products that can be bought at an affordable price from VND 10,000 to 29,000 but still keep the good taste of each bread meeting criterion that we set out" – That is the enthusiastic sharing of investor Nguyen Quoc Phu who "lives and breathes with every step of breadmaking".
Mr. Nguyen Quoc Phu's desire is to bring health, safety in food, and the special quality of bread to consumers. VBread has really changed the perception of consumers on a street food dish that is well-known in the world but not much attention to food safety and nutrition is made.
With a fairly methodical investment, VBread selects and cooperates with professional managers in bread production and chefs with more than 20 years of experience working in large hotels at home and abroad. The factory with advanced technology ensures food hygiene and safety "from the inside to the product".
VBread is very strict when choosing input materials, our bread must be made from high quality wheat flour, milk, and eggs that have been inspected; Meat must be supplied from well-known brands and have been prepared and processed under food safety and hygiene procedures; Vegetables must be carefully selected and treated with ozone before being placed in stores; No borax and preservatives are used in grilled chopped meat and other ingredients.
Combined with the sauce made by special heirloom recipe that can be served to both vegan and customer with a normal diet, VBread Bread is no longer a dish that you can get on the roadside, but it has become a delicious, clean, and nutritious food, making it easier for customers when choosing instant food in today life.
A special thing of VBread stores is that there are always three employees at the counter with special tasks. One cashier collecting money (not touching the bread), one baker (using gloves) and one does the packaging. No one can do other people's job. All activities of employees are strictly supervised, ensuring that the product given to the consumer is a completely clean and healthy. In addition to that, there is always a delivery team who is willing to make the delivery fast, convenient and completely free on every corners of the city.
In addition to the best service and delicious bread, customers may get a glass of herbal tea with the taste of royal herb which is an interesting thing at Vbread store. It is completely made from herbs, sugar-free but sweet, and helps heat-relieving.
That is a remarkable thing of VBread compared to many existing bread brands. Furthermore, apart from the "clean and healthy" guarantee, VBread also have confidence in other values ​​after customer's first impression.
The popularity of bread since 1999 – A story imbued with humanity
To have a five-star bread like today, we must take into account Thay Thach-Co Nga bread (No. 40A Tran Qui Cap, Hue City) which was very famous in the capital in the early 80'. Inheriting the heirloom recipe, Mr. Nguyen Quoc Phu has determined to bring the value of his family's bread to all corners of the country and to many countries around the world in the future.
"For me, VBread is the way I continue my family business and bring a part of Vietnamese culture to friends around the world. It is also the way I tribute to my parents who worked hard as teachers and sold bread for money to feed me and my other three brothers as well as to teach us becoming successful like we are today"- Mr. Phu shared.
Currently, Mr. Nguyen Quoc Phu is the Chairman of the Board of Vietnam Community Development Investment Joint Stock Company and manages many other large companies. Although he's busy, he still donates everything he has to Vbread bread.
Thinking back to those days when he was a teenager "breathing with the step of breadmaking", tasting the softness of dough, the crispy of bread crust, those special impressions and flavors of family's traditional bread have been in his vein.
As a result, in 1999, while he was a graduate, the son of Hue decided to bring the bread from his homeland to Saigon, facing many difficulties and challenges. With the consumption of 1,000 loaves a day, the ancient capital bread fever became a phenomenon on Nguyen Trong Tuyen street. The ancient capital bread brand did what many bakeries in Saigon could not. There is no doubt in the special and quality of the ancient capital bread with an incredible amount of bread sold at that time.
Having been thriving with his bread business, in 2003 he had to suspend it for domestic and abroad business trips. Leaving in him a huge regret. For more than 10 years, he has always had in him the ambition of continuing to build and develop Vietnamese bread with the criteria of deliciousness, safety, and nutrition. As a result, VBread has been present in many locations in Ho Chi Minh City and is gradually expanding to other provinces, then it will be developed in Singapore, Hong Kong, Canada, Australia, USA, Netherlands, and so on.
Coming to VBread, you will be immediately impressed by the professional service style of staff and enjoy a "true clean and healthy" bread meeting five star standard. Through concerns and challenges that he has been through, this is the passion of his life, the thoroughness of him in each product that he made.
With the motto "Sustainable Development Foundation on Mind and Ethic
Mr. Nguyen Quoc Phu and his team Mr. Quoc Minh, Mr. Cong Hoan, Mr. Duy Lam, Mr. Cong Loi, and Ms. Hong Thao have been doing research and developing Vbread not only in Vietnam but also the world. We undertake to bring "VBread clean and healthy bread" to customers with the best health benefit and the best service.